FORMULA:
Specialized – Online
The Specialized Master Online in Corporate Communication is designed to provide the managerial skills, industry knowledge and skills necessary to effectively and professionally manage communication and marketing processes through specialized techniques to improve corporate or political communication.
Rome Business School guarantees a multidisciplinary experience oriented to an increasingly interconnected market: a guarantee of this, we boast belonging to the most ambitious group "Planeta Formación y Universidades", an international network created in 2003 by De Agostini and the Planeta group , market leader in university and continuing professional education.
Why choose our Master Online in Corporate Communication?
60% of our students obtain a job offer within 6 months of the end of the master
12% of our students found work with NGOs, in line with our "Better Managers for Better World" philosophy
International Bootcamps in Rome and Barcelona: thanks to our Bootcamps you will have an immersive and stimulating experience, focused on the topics of the business world;
Networking: we have more than 221 partners from the largest companies in the world market and, thanks to our workshops and company visits, students will have continuous opportunities and networking.
Our Partners:
The Online format of Rome Business School's Master in Corporate Communication is structured to provide participants with a though preparation for the Political and electoral communication sector and crucial aspects of other related fields, starting with a wide overview of the broader management world and then proceeding to analyze all the specific subjects and aspects of Political communication development and management, as well as providing an in-depth insight of marketing and communication and their application to politics, its trends and best practices, as well as how they can be successful among the masses.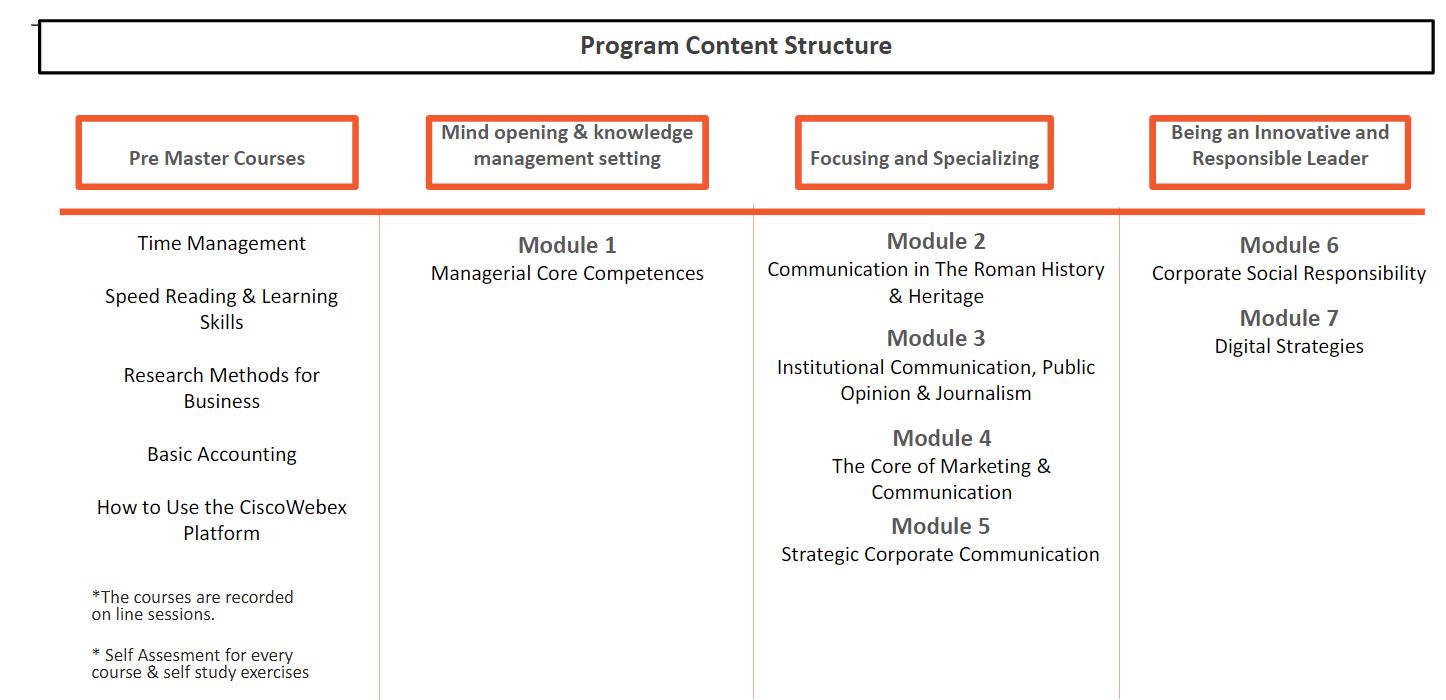 Captstone Project:
At the end of the course, a group project is envisaged that aims to develop a plan to solve a problem of an existing or fictitious company. All teams are led from the initial phase of the project. Upon completion of the Capstone project, students will be able to:
Think critically

Implement creative solutions and solve management problems

Apply and link theory with practice

Communicate and present business reports / ideas more effectively

Carry out commercial research and commercial analysis

Demonstrate collaborative leadership skills

Work effectively in a team

Communicate interculturally and compromise for a common goal

Set goals and implement projects effectively
Methodology: ''Circular Learning'' based on EFMD Circle for Quality Assurance 
Sticking to the highest standards regarding the teaching methodology provided to us by EFMD, the Master will be taught through interactive lectures, case study analyzes, exercises, discussions, role play, teamwork exercises, video conferences, business analysis and sessions presentation of students. Case studies will be used to generate discussions and illustrate business problems. Students will be encouraged to read and engage in discussions and debates. The teaching methodology is based on learning by doing, through which teachers implement a student-centered approach, involve students and provide activities that allow students to apply the knowledge acquired.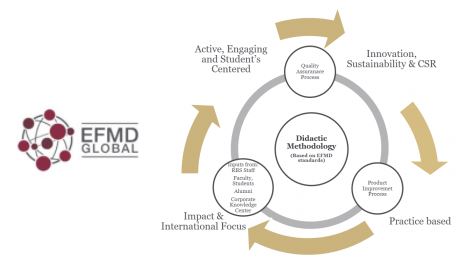 Soft Skill Program
Soft skills are the "secret key" of a well managed workplace and a progressive career path. With the Soft Skills Program, we offer you the opportunity to develop the soft skills necessary for your personal and professional growth.
The personal growth program is optional and is structured as follows: 10 hours in total for 5 interactive and self-reflective courses on soft skills (the certificate will be provided upon completion of the program):
Emotional intelligence

Public Speaking for Business

Time, stress and self-management

Intercultural communication

Conflict, problem solving and negotiations
Rome Business School's Online Master in Corporate Communication is given by highly selected international university professors, entrepreneurs, consultants, industry experts, trainers and business managers, drawn from a variety of operational and professional fields, from advertising to sales, from entrepreneurship to digital marketing.  The teaching approach is aimed at the acquisition of know-how, in order to transfer truly useful competencies for the attendees' professional development.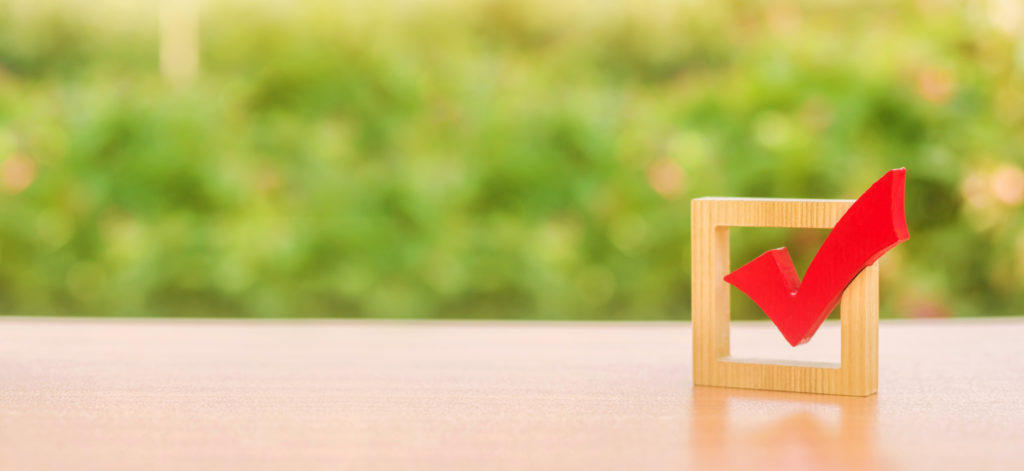 PROGRAM DIRECTOR
Alessio Postiglione – Journalist, political consultant and specialist in political communications. Currently Speaker for the Italian Government and Academic Supervisor of the Master in Political Marketing at the Rome Business School, former Research Assistant at the Center for Media Pluralism and Freedom of the European University Institute, he has worked for the European Parliament and the Institutions Italian and, as a manager, in several elections both at national and European level.
PROFESSORS
VALERIO MANCINI- Expert in international relations with experience in the development and management of various projects related to the prevention of transnational crime, the fight against terrorism and drug trafficking with international organizations, in particular with the United Nations (UNODC and UNICRI) and the OECD. He has worked in Italian diplomatic missions abroad, as a consultant / project manager for the development of social projects related to crime prevention in Latin America, as an export manager for the public and private sector and as a university assistant. He worked as an operational support officer at the MAOC (N), The Maritime Analysis and Operations Center-Narcotics based in Lisbon.
ALDO TORCHIARO – Ph.D. Candidate in Political Communication, professional journalist for 15 years, he was director of magazines and television host for national television channels. He deals with new media, social media, campaigns and lobbying for politics, as head of media relations and external relations for public bodies, political parties and foundations. He currently works as Senior Media Relations Manager at Spencer & Lewis in Rome and has also worked as Media Relations Officer at DOL. He has published articles with Rubbettino, Ebook, etc.
BARBARA CAEN – He holds a PhD in History of Art from the Kunsthistorisches Institut, Universität Zürich, Switzerlad. He has worked as a Federal Science Policy Advisor to the Cabinet of the Secretary of State (Belgium) and as a Policy Advisor to the Parliament of the Brussels-Capital Region and the Flemish Community Commission (Belgium).
MAARTEN VANALDEREN – President of the Foreign Press Association in Italy between March 2009 – March 2011 and between March 2013 and March 2015. Author of Il Bello dell'Italia and Talenti d'Italia. Correspondent for the largest newspaper in the Netherlands DeTelegraaf for Italy, Turkey and Greece.
LORENZO PREGLIASCO– Degree in Linguistics at the University of Turin. He is co-founder of Quorum, a social research and political communication agency, and YouTrend, a digital data journalism magazine. Colonnist of L'Espresso, he also contributed to La Stampa, POLITICO and Aspenia. His analyzes appear regularly in international media such as Reuters, BBC, Financial Times, Wall Street Journal, Bloomberg. He is a member of ESOMAR, European Society for Opinion and Market Research.
MELANIA MECENATE – Co-Founder & Executive Partner, Head of Research & Development at Disclose Srl. Italian and bilingual Neuro Coach and business and leadership mentor, organizational consultant, emotional intelligence assessor and teacher. Over 20 years of experience in project management and consulting in multinational companies and agencies such as IBM, WFP, FAO and Pharma Companies.
MANUEL ESPINOZA – is a Partner of Worth Street Group. He has extensive experience in advising companies and advertising on GRC and corporate crime matters, including AML / CFT, anti-corruption, data protection and antitrust matters.
VITTORIO LEPROUX – Since October 2015 he has been working as Evaluation Expert at ANVUR, the National Agency for the Evaluation of Universities and Research Institutes. He is CSR auditor (SA8000, SEDEX and social compliance standard).
With our help, you can create your career strategy through a journey of self-reflection, exploration and results. This program is designed to help you find internships or positions that match your ambitions and expectations. In particular, the master is particularly suitable for those who want to pursue a career in the following roles:Digital Strategists, Public Relations Manager, Global Reputation Manager, Stakeholder Manager, Internal Relations Manager, Crisis Manager;
Social Media Communication Specialist, Professional in Communication offices: Institutional-Professional –Political; Political Leaders, Brand Managers, Social Researcher, Opinion poll Analyst, Event Manager

Political Communication and Media Strategist Managers, Spoken Person, Lobbyst
Every year, Rome Business School presents the Employment Report, a document that collects data on the official results achieved by our students and former students in terms of employment and professional growth following their master's degree at Rome Business School. The results obtained were possible thanks to the commitment of our students and the incredible professionalism of our Career Services who, with diligence and dedication, were able to direct students towards the desired career path in the world of work.
In particular, according to the most recent statistics:
60% of our students obtain a job offer within 6 months of the end of the master

12% of our students found work with NGOs, in line with our "Better Managers for Better World" philosophy

43% of our students have obtained a job position in large multinational companies;

37% of our students are currently successful managers;

68% of our students increased their job responsibilities at the end of the master.
Networking and partners
Rome Business School has established solid partnerships with several world-renowned leading companies, such as Rai, Arteconomy, Maxxi and many others. To ensure that our students can build a strong professional network, we constantly organize guest meetings, visits, events and lectures with representatives of elite business ecosystems, encouraging interaction between leading professionals and students, and facilitating the process learning.
Multicultural classes
Thanks to the school's purely international mold, students will have the opportunity to take part in classes with students from more than 150 countries. This will allow participants to increase their knowledge of other cultures other than their own.
Student Hub
Every year we welcome students from all over the world: from cities and small towns, of all cultural, ethnic and religious backgrounds. Rome Business School enhances the experience of students creating opportunities for learning, involvement, personal and cultural development that go well beyond the lessons.
Events
Our students will be able to participate in various activities: Coffee Meetings with the CEOs of prestigious multinational companies, company visits or simple events designed to promote socialization and intercultural exchange which has always been the central point of our school.
Admission's Process and Degree
Rome Business School works hard to maintain the highest standard of quality in the programs we offer. That's why, in order to ensure the eligibility of the candidates, all applicants must undergo and successfully pass a selection process structured as follows:

The admission process is aimed to verify the candidate's eligibility to attend the Master. The candidate's academic history, previous experiences in the topics covered in the Master and motivation will be matters of the evaluation. Once it's sent, the application will be evaluated by the Rome Business School's academic committee. In order to ensure the application's suitability, it is important to deliver all of the required documentation.
Scholarships and Tuition
Payment
The payment of the participation fee of 5,900 Euros can be made in the following ways:
In 4 interest-free installments

Single solution (this option guarantees a 10% discount on the total amount)
Scholarships
Based on their personal profile, experience and proven motivation, the candidate may be awarded a scholarship to partially cover the participation fee. In fact, Rome Business School offers the most deserving candidates the opportunity to benefit from 8 different types of scholarships. These partial economic hedges can consist of 6 months of interest-free financing.
Early Bird Enrollment Scholarship

Study in Italy Initiative Scholarship

Lifelong Learning Scholarship

Academic Excellence Scholarship

Executive Women Grant

Entrepreneurial Grant

Better Managers for a Better World

Student Loan Assistance Grant
Competition for scholarships increases as the starting date approaches and funds are limited, so it is advisable to apply as soon as possible.