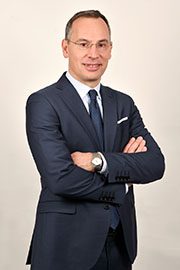 On behalf of all our faculty and staff, welcome to the Rome Business School Belgrade!
My name is Antonio Ragusa, Dean and Founder of Rome Business School. It is a privilege for us to partner with Rome Business School Belgrade in order to be able to deliver our programs together in your territory.

I am delighted to welcome you to our challenging and inspirational MBA program designed for the next generation of business professionals. The program was built on a vision of delivering a world-class MBA education in Serbia in partnership with Rome Business School so that students would not have to travel abroad to receive a top-tier business education. Our MBA programs prepare you to become leaders able to meet the challenges of a time of critical transition.
We create opportunities and inspire students to achieve their goals in ways that help them make their way in the world, and in turn, make that world a better place. We act on our social responsibilities and empower others to do the same through the energy and excellence of our faculty, the diversity and talent of our students, the passion of our staff, and our strong ties with the global communities we serve.

I wish you all the best for your educational journey and to become better managers for a better world.
Antonio Ragusa – MBA, LLM

Rome Business School | Founder and Dean