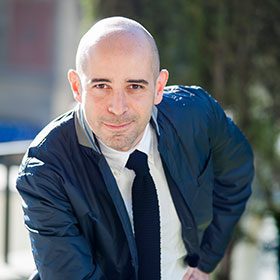 Affiliations:
Vice-recor, Applied Research & Professor of Operations, IE Business School-IE University

Past affiliations: Arizona State Univeristy, MIT Logistics Program & Media Lab, University of Padova
Short professional biography:



Fabrizio Salvador is currently Professor of Operations at IE Business School, IE University, where he also serve as vice-rector for Applied Research. His award-winning research focuses on the mechanisms through which organizations recombine or reuse their resources to respond to uncertainty in their operational environments. His work scores more than 5000 citations in Google Scholar and has been published on top academic and business outlets such as Journal of Operations Management, Production and Operations Management, Decision Sciences, Organization Science, MIT Sloan Management Review. Dr Salvador also is Founding Department Editor for the Journal of Operations Management and Senior Editor for Production and Operations Management as well as Associate Editor for the Decision Sciences Journal. Dr. Salvador is a firm believer in industry-academia collaboration, which he pursued with education and research projects involving prestigious companies, such as AstraZeneca, CAP Gemini, DHL, Ernst&Young, IBM, John Deere, Nokia, Permasteelisa, PriceWaterhouseCoopers, Xerox, Telefonica, Tetra Pak and Unilever. He has lectured PhD, MBA and Executive groups in Canada, US, UK, Ireland, Germany, Austria, Italy, Spain, the Netherlands, Finland, Guatemala and China.

GLOBAL PROJECT NETWORKS: "Enabling Distributed Projects: Effects of Product Interface Match and Related Technical Experience" (2020). Production and Operations Management

PROJECT LEADERSHIP & PROJECT OUTCOMES: "Project Managers' Breadth of Experience, Project Complexity, and Project Performance" (2021) Journal of Operations Management.

Full research profile: https://scholar.google.es/citations?user=STPpoz4AAAAJ&hl=en
Operational Excellence & Learning

Flexibility and Project Management

Masters and Courses held by the teacher