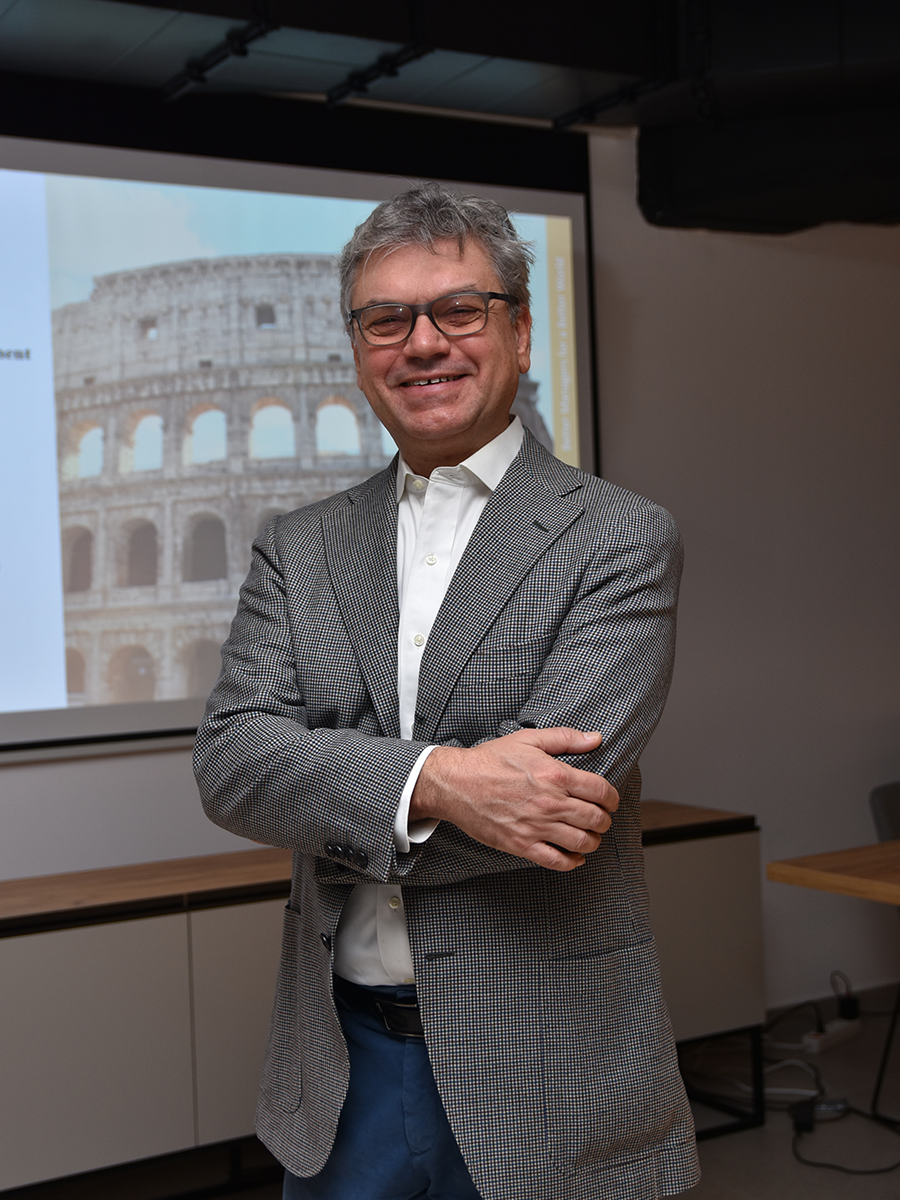 MASTER IN BUSINESS ADMINISTRATION (MBA) Business School of University of Warwick (UK)

MASTER DEGREE IN ELECTRONIC ENGINEERING University of Pisa – Faculty of Engineering

QUALIFICATION TO THE PROFESSION OF ENGINEERING University of Pisa
Short professional biography:



Alessandro is a professional with 30 years of experience in management, engineering and development. He is currently working as an Industry 4.0 engineer in RINA. He is in charge of Audit and Certification activities dedicated to ensuring financial incentives to companies investing in new capital goods, as well as in tangible and intangible assets functional to the technological and digital transformation of production processes. Alessandro is active and passionate about sustainability, and he supports Italian companies writing their Corporate Sustainability Reporting mainly based on GRI standards, with several Non-Financial Reports already created. Alessandro is lecturing several classes at Rome Business School, like Technology and Supply Chain Management, Design Thinking – Disruptive Innovation, Technology and Operations Management, and Sustainability & Technology. Alessandro is also a shareholder in Start-up called WEL, which is operating within the ComoNext Innovation HUB, and WEL's core business is based on the application of IoT technologies in the industrial, retail, healthcare, and tourism sectors. In his rich business career, he worked as a Director of IoT Council for the European Technology Chamber, and as an Electronic Engineering Manager for Formula 1.
Alessandro has an MBA degree from the Business School of the University of Warwick (UK), and a master's degree in electronic engineering from the University of Pisa.
Industry 4.0, Internet of Things, Automotive Engineering, International Business, Sustainability, and Marketing & Sales.
INDUSTRY 4.0 ENGINEERING RINA; Milano, Italy

SUSTAINABILITY MANAGER SELF EMPLOYED; Milano, Italy 

LECTURER OF THE ROME BUSINESS SCHOOL ROME BUSINESS SCHOOL; Milano, Italy 

SHARE HOLDER – PROGRAM & COMMERCIAL MANAGER WEL IOT SRL

EU TECH CHAMBER – DIRECTOR OF IOT COUNCIL EUROPEAN TECHNOLOGY CHAMBER; Milan, Italy 

PROGRAM AND COMMERCIAL MANAGER FOR FCA WILLIAMS ADVANCED ENGINEERING (WAE)




(GROVE, OXFORDSHIRE, UK)

COMMERCIAL DIRECTOR MAGNETI MARELLI; Torino, Italy

COMMERCIAL DIRECTOR MAGNETI MARELLI; Milano, Italy

CHIEF ENGINEER, BUSINESS DEVELOPMENT MANAGER RICARDO LTD, (SHOREHAM-BY-SEA, UK)

– ENGINEERING CONSULTING COMPANY; Brighton, United Kingdom

FORMULA 1 RACING ELECTRONIC ENGINEERING MANAGER;  Oxford, United Kingdom

Masters and Courses held by the teacher
Technology and Supply Chain Management